Eagle Square
This is one of the most prominent landmark in Langkawi. Standing tall at 52 feet majestically atop an open and breezy square with its front facing sea, it is obviously an eye catcher for visitors arriving in Langkawi by the sea as it is reputed to be the biggest in the entire world.

Galeria Perdana
The Premier Museum in Malaysia houses all the Prime Minister's innumerable gifts and souvenirs from other world leaders as well as Malaysian admirers. Galeria Perdana is the one and only place where one can have the opportunity to view priceless items and appreciate the uniqueness and diversity of various arts and culture portrayed and presented in appreciation and acknowledgement of the generosity of the various donors.
Langkawi Bird Paradise
One of the latest in Langkawi. Features 150 species of birds and over 2,500 birds with fully covered walkway. One can even take photos with live talking parrots. A must for families.

Langkawi Cable Car
Another attraction in Langkawi features state of the art modern technology where one can view Langkawi at breathtaking height

Makam Mahsuri
As you explore Langkawi, this Mausoleum marks the many mystifying legend where one will find it interesting after knowing the Princess Mahsuri was innocently stabbed to death. With her dying breath, she made a curse on this island that life will not prosper for seven generation. The islanders believe that the birth of a baby girl in 1987 broke the curse and since then, Langkawi island has prospered till today.

Underwater World
At Underwater World, it is the largest aquarium in Asia featuring more than 5,000 species of marine life and fresh water fish. One can even see sharks swim just inches away from you as you walk through the gigantic Tunnel Tank. Children will love the Koi Fish Pond and Touch Pool as you feel the starfish, sea cucumbers and various species of fish unknown to you.

Lagenda Park
This landscape theme park is set along reclaimed costal waterfront and is located next to the Eagle Square. This tasefully designed park is about the myths and legends of Langkawi and among the various sculptures are the trees and plants set among beautiful ponds and a lagoon.

Crocodile Farm
This farm houses more than 1,000 crocodiles of various species living in a controlled environment and the best time to go is during feeding time. There is also a crocodile show daily which is really worth watching.

Budaya Craft & Cultural Complex
This complex has a wide range of Malaysian handicrafts locally hand made on display and for sale which makes excellent souvenirs or gifts. Get to see batik artists at work and witness how they painstakingly transform their designs.

Langkawi Crystal
A very popular place for visitors as they can watch experienced craftsmen skilfully demonstrate and transform handblown crystal into mugs, glasses and other objects. The array of collectibles are for sale and are reasonable priced.

Air Hangat Village
This village has three tiers of hot spring and its known to cure many kinds of skin diseases. There is also a hand carved riverstone mural depicting the clash between the giants Mat Cincang and Mat Raya.

Laman Padi
This Rice Garden is the only one of its kind in Malaysia. One can view the fascinating exhibits at the Rice Museum and learn how padi is cultivated. There is also a herbal garden where traditional herbs are grown. There is a Rice Restaurant where one can savour the different rice-based dishes and cakes. The Souvenir Shop sells handicrafts that make excellent gifts

Padang Beras Terbakar
As the locals belief, soon after the untimely death of Mahsuri, the Siamese attacked this island. The local leader feared for the fate of Langkawi and ordered the locals to collect all their rice and bury it in a secret pit and burnt it to prevent it from falling into the hands of the attackers. The pit was later covered with earth. An unexplained unusual feature is that every time after a heavy downpour, burnt rice grains still surfaces.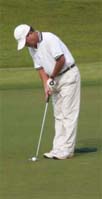 Golfing
The Els Club Teluk Datai – Rainforest Course
This ultimate golf course is voted one of Asia-Pacific's top five golf courses for two years in a row. This 18 hole, Par 72 course is nestled between mountains and coastal vistas and is surrounded by one of the oldest rainforest in Langkawi. One can expect the full comforts of an international class golf club with buggy facilities and club house facilities.
Gunung Raya Golf Resort
This is one of the newest golf course in Langkawi. The 18 holes course is set amidst 300 acres of former rubber plantation and the course offers golfers a relaxing golfing experience.

Pulau Payar Marine Park
Considered one of the most beautiful marine park in this region, Pulau Payar is a gazettes marine park by the Government of Malaysia. The main activities here are snorkeling and swimming. Scuba diving is commonly enjoyed by visitors to this island. The Payar 'garden' is rich in its eco-system and the coral garden is said to support the largest species of coral in Malaysia.